To be honest with you, it feels surreal typing this as I have worn Adidas clothing my entire life, though strangely; since lockdown last year I have found myself purchasing more of their clothing. I have always appreciated the quality of their sportswear and find the price point very affordable; especially for a leading sports brand.

Being asked to collaborate with Adidas has been a dream and has really shown me how far sashashantel.com has come. I was given a £200 gift card to spend on their current collection and I really took the time to peruse the site; as it is very extensive and offers a great deal of options from footwear, to activewear and outerwear also.

I wanted to make it an even spread so opted for pieces from different parts of the site and made sure to choose clothing pieces that I would wear on a day to basis or during my workouts. I have been dedicating a vast amount of time to my fitness and personal development of late, so this collaboration really couldn't come at a better time.
It also gave me the opportunity to work with Katie from Katieryancreations.co.uk who is amazing at capturing me and I know we would take some epic shots.
You can tell from the images, how much quality the fabrics hold in the outfits. This two piece was so stretchy, soft on the skin and held my curves perfectly. It wasn't too tight and gave my body ample space and wasn't restrictive in anyway. I also love the colour and how complimentary it is of my complexion. I am a firm believer that you remain more committed to an exercise routine if you dress up and wear clothing that makes you look and feel your best.
As far as the bra top goes, I am quite top heavy and am a 34D so it's important that I feel supported and that my bust is secure when I workout. I tested this by running at different speeds and found that the bra top held me perfectly.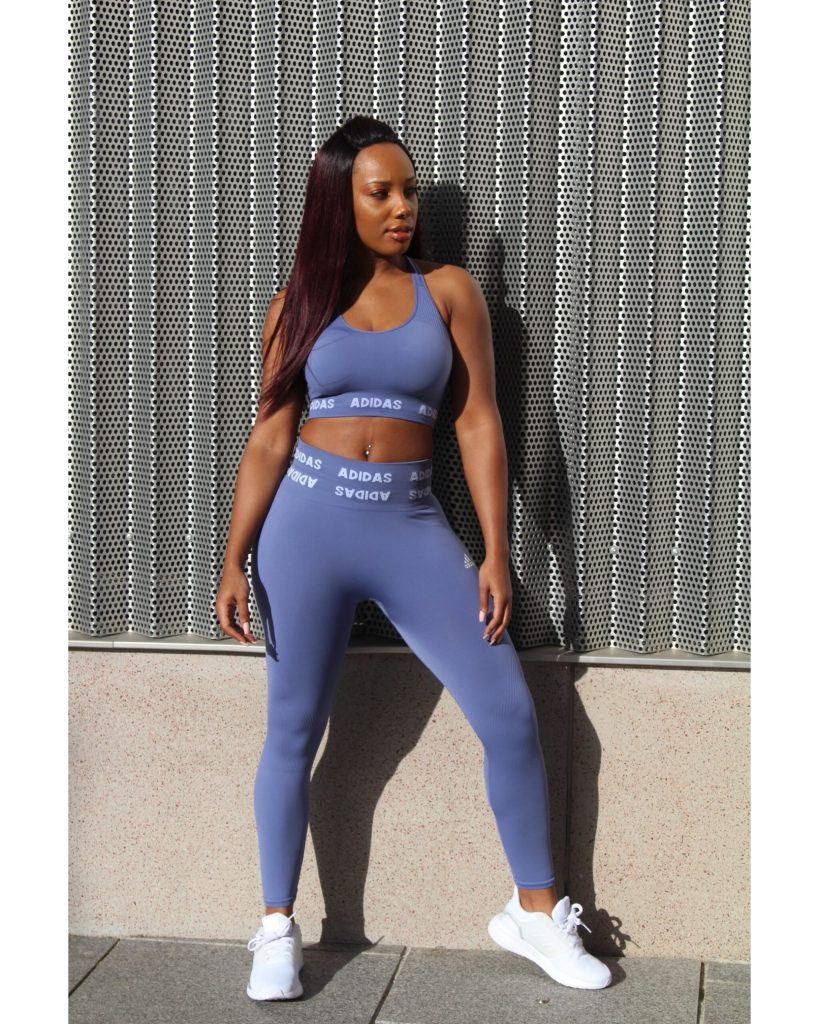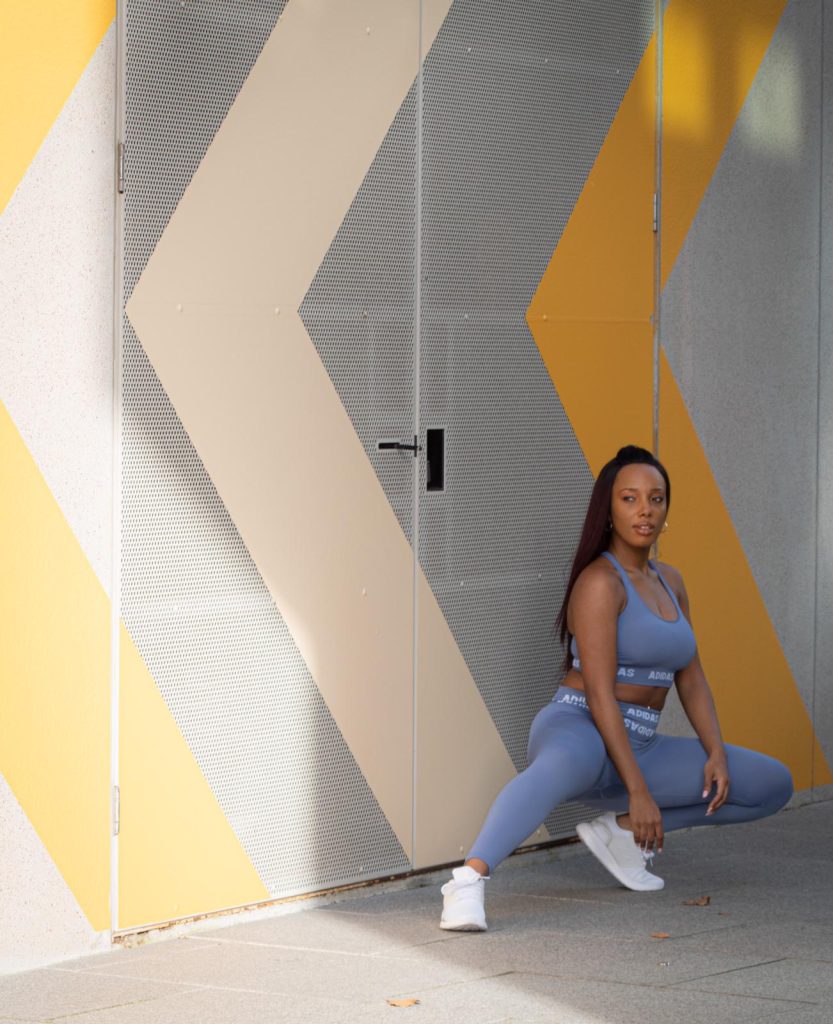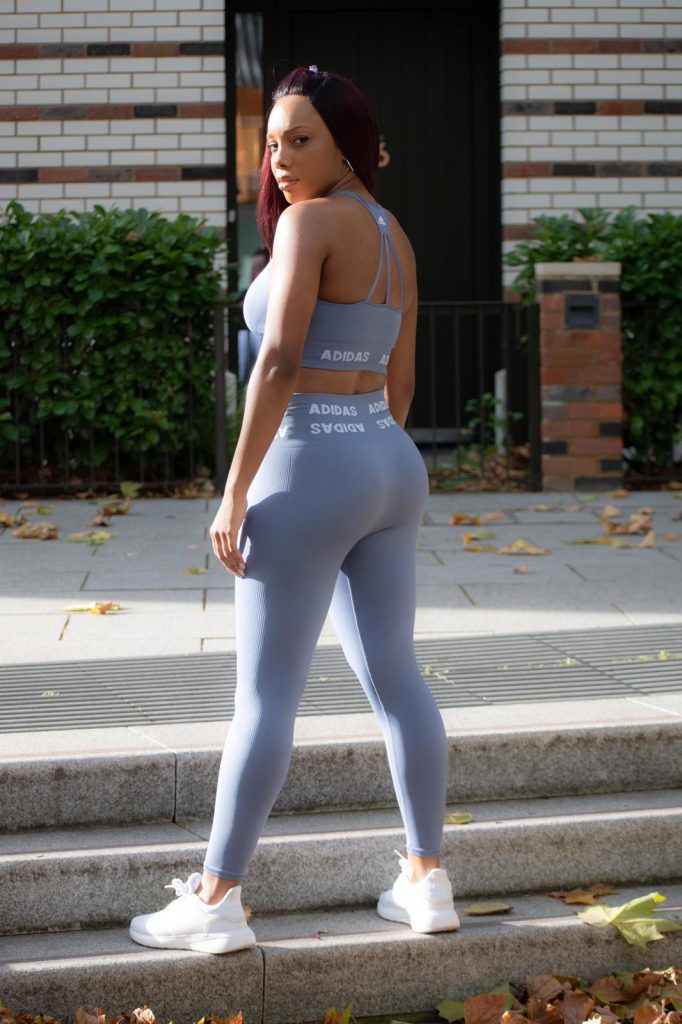 Purchase both the top and bottoms on the link below……
You can also shop similar items
I also love Adidas's hoodies and jumpers and own a fair few, however I have always opted for safe colours, i.e black and white colours. So I really wanted to step out of my comfort zone for opting for a lilac jumper and I absolutely love it. I teamed it with the purple high-rise tights linked above and love how the colours complimented each other. Again, another snuggling fit but the great thing is that it didn't make me too hot. It was also very soft to the touch and breathable. I also love the white stripes which really worked with the lilac. I also loved the ruched bottom of the jumper.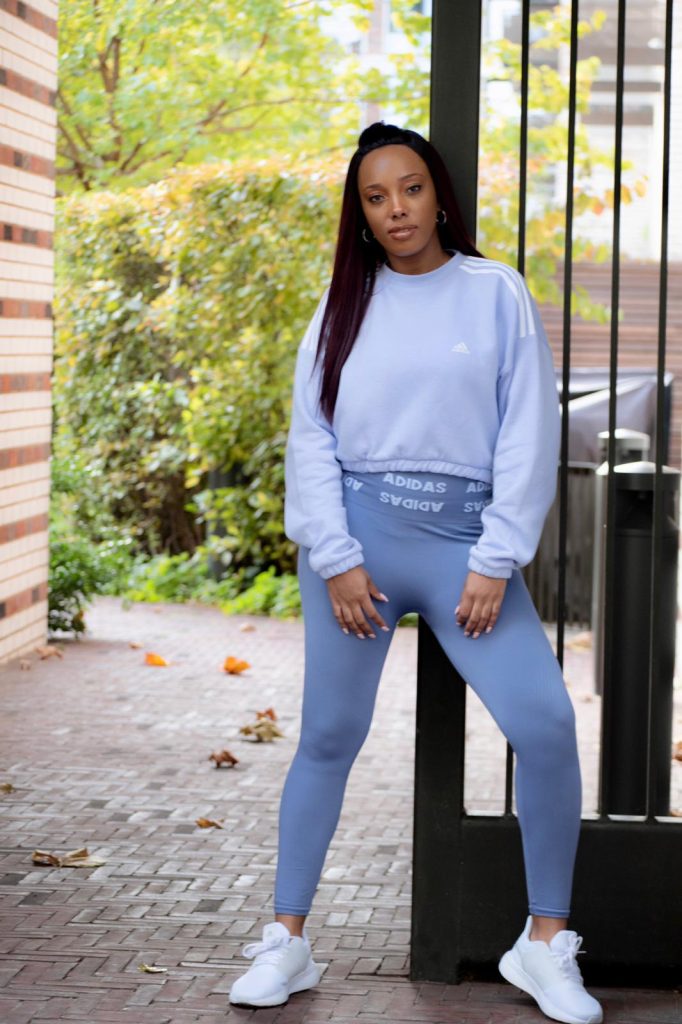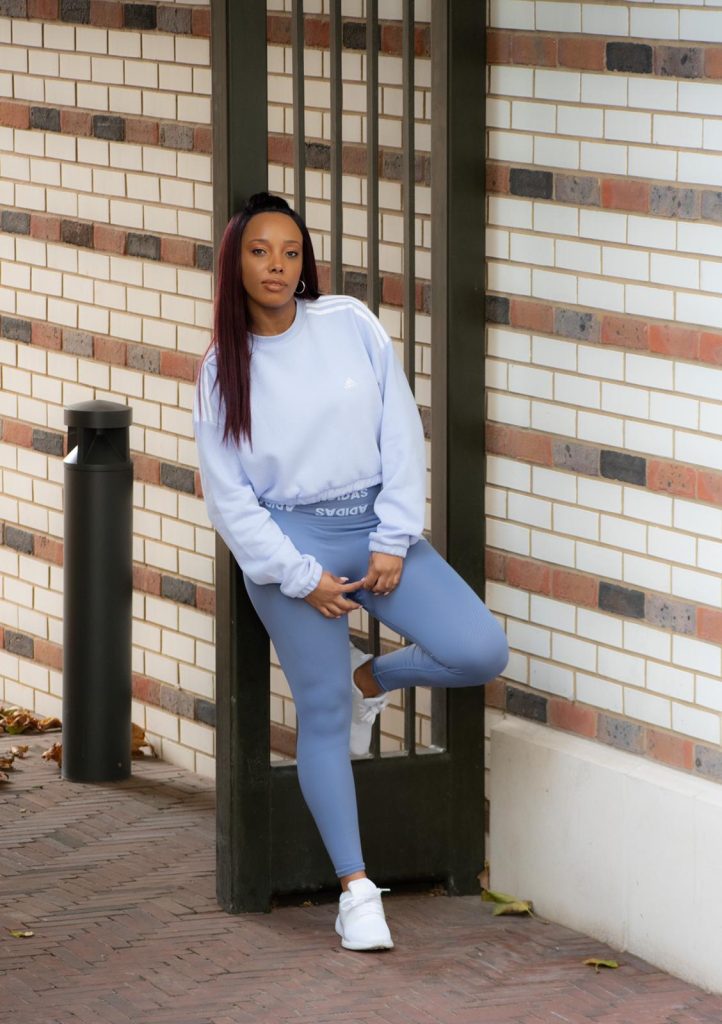 Hit the link below to get yours…….
I live in Adidas leggings and would wear them everyday if I got the chance because they're so comfortable, stretchy and fit well on my body. So it was honestly a no-brainer to add these in this amazing blue colour. I teamed it with with a plain black crop top and jacket from my own closet but loved how well everything went together to complete the look.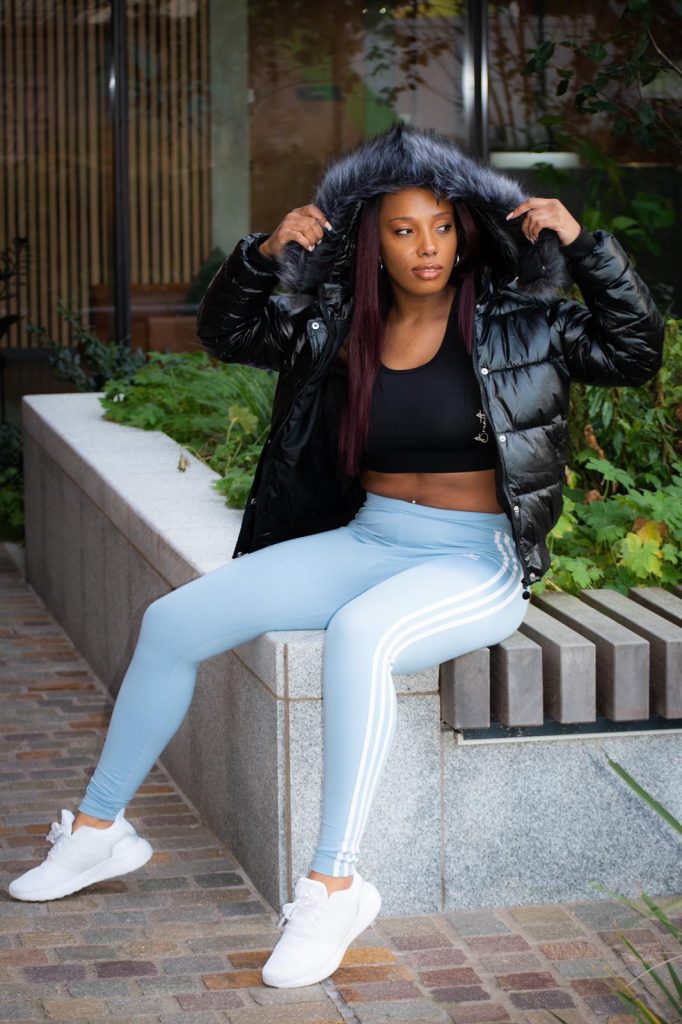 Get your leggings by hitting the link below….
Get more leggings and other training clothes HERE
Throughout this collaboration post you have seen these amazing trainers and I chose them because I am obsessed with anything plain white as I feel it goes with absolutely everything. I am planning to start jogging again and wanted a lightweight pair that would make the process easier and these do not fail to impress. You honestly feel like you have nothing on your feet and from wearing them throughout the duration of my shoot, I was thrilled with how comfortable they were.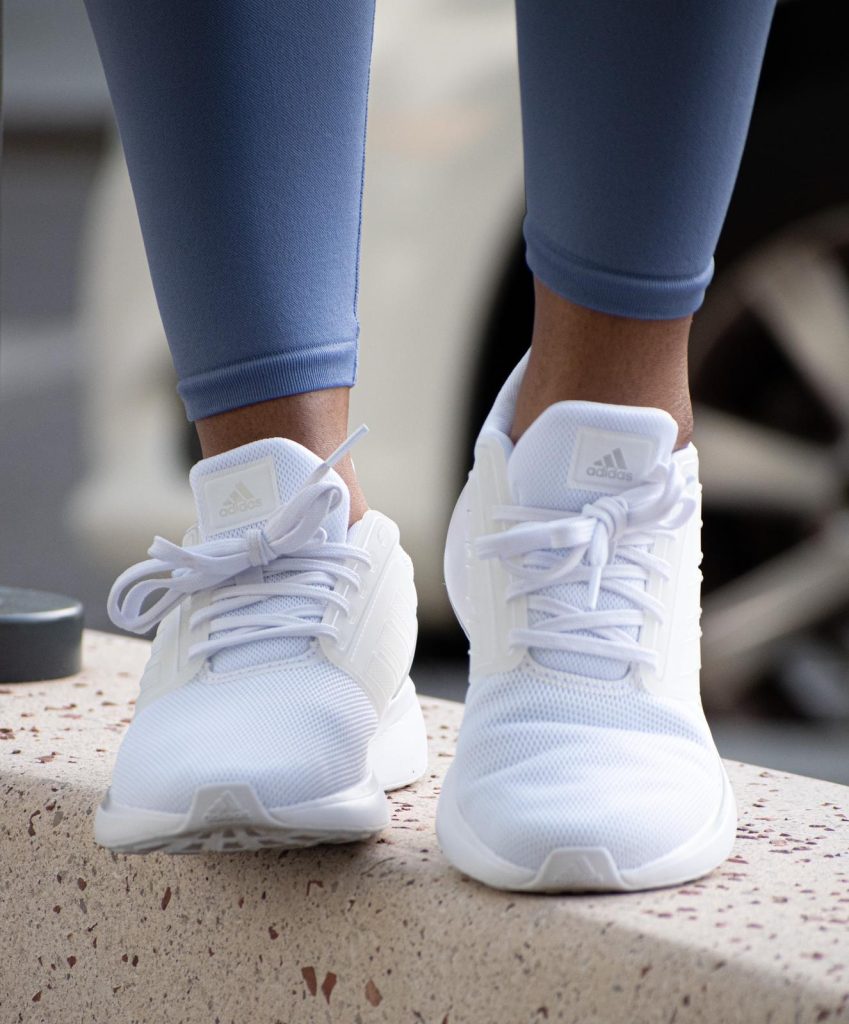 The EQ19 Run Shoes come in a number of colours and they cushion every takeoff and landing, thanks to the Cloudfoam midsole. Wearing them was like walking on air and they were a great final piece to what was an amazing combination of excellent sport and activewear.
Get yours by hitting the link below…..
The current collection at Adidas offers so much diversity, comfort and affordability there is something for everyone. Whether you are embarking on a new fitness journey like me, or want to wear the trendiest sportswear going, your first stop destination needs to be Adidas.co.uk
Thank you Adidas for working with sashashantel.com on this.
*This was a collaboration with sashashantel.com & Adidas.