If you're a regular visitor to SashaShantel.com, you will know that I recently share a press release sharing the news that the High Fashion brand Jimmy Choo, had launched a Cafe; for a limited time only at Harrod's Knightsbridge. My initial impressions were good because the images of the pink aesthetic and pretty cake looked quite inviting.
So was it everything I thought it would be?
Well…
Not really. Let's talk about the factors that were good first and then I will highlight the parts that just didn't do it for me.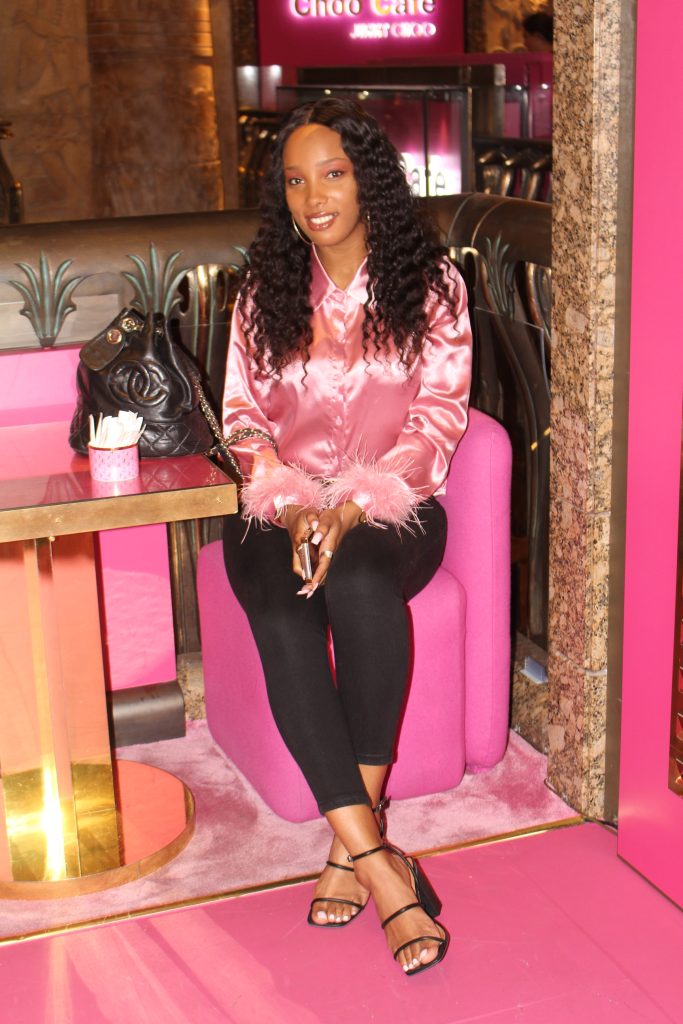 What worked?
The aesthetic was what I expected, opulent, bright and an excellent combination of pinks and golds. The release offered an aesthetically pleasing setting; perfect for bloggers and it delivered on that. The walls and doors were embellished with the Jimmy Choo logo and gave the air of wealth and luxury.
The service
As I expected, the service was to a high level. The staff were attentive to our needs (I went with my mum Syianne) and made sure to check in throughout our visit to ensure we were happy throughout.
The cost (to some extent)

You cannot really expect to visit the Choo Cafe in Harrods, Knightsbridge and be expected to not pay an unreasonable amount for coffee and cake because to be honest; you're paying for the experience and not really the food. (Just being honest). I ended up paying just over £38 for a Latte, the smallest bottle of Coca Cola, my eyes have ever done seen! and two cakes that looked bigger in the promotional images. So as I mentioned, although I expected the over the top price; to make up for that I really did expect it to be a bigger venue. But that leads me to what didn't work.
Yes, you guessed it. This is what didn't work….
The size of the venue.
Not even the very tiny characters in the Lord of The Rings would have enough space to move around. It was pretty tight and if I be completely honest; for my plus size sisters and brothers or anyone who is bigger in stature, the space was very tiny and didn't really allow you with enough leg room. The chairs and stools were also pretty low and close together.
Did I really pay £38 for two cakes???
Okay, so I did say I expected this. But, I also expected the cakes to be bigger; just like they appeared in the picture. I will admit, I felt a tad but cheated when these came out of the kitchen. There was this desire in me to send the server right back into the kitchen to come back with the correct cakes because that was surely not mine.
Not enough space to take images next to the Jimmy Choo Logo
For anyone who doesn't blog or create content; this of course won't be a big deal to you. But for me, who actively blogs and shares content, I don't feel this space was giving as much as it could. People who had no interest in capturing the aesthetics were sitting on the best tables, blocking the walk way with Harrods shopping bags and stopped me from moving around as freely as I had hoped.
However…
I loved the aesthetic and the overall mood when I was there and for the overall atmosphere; I am generally happy that I decided to head down there.
Although, it's not been stated when the pop-up cafe will go, it's only there for a limited time only
Check out my REELS of my time HERE and if you want a piece of the Jimmy Choo Cafe experience make sure you head down to Harrods Knightbridge and keep in mind that the Choo Cafe accepts walk-ins only and it is based on a first come, first serve basis.
Although, it's not been stated when the pop-up cafe will go, it's only there for a limited time only