Hey my loves, be ready for a flurry of fashion posts that I have been meaning to get up but haven't been able to. Your girl was swamped at work and was struggling to get anything done. So I booked a solid week of annual leave to get back on top of things and this means some much needed affordable fashion content.
A few weeks, I managed to fit in a shoot with the amazingly talented Katie Ryan Creations and we created MAGIC so the images had to make it onto my website. (How could they not?)
Before I proceed, have you subscribed to my YouTube Channel yet? I am now over 500 subbies which is a massive achievement as I have been stopping and starting on this channel for over 4 years. I have a great deal of fashion content on there and have recently uploaded a brand new from Shein video so check it out HERE.
Right, speaking of Shein, even though they still refuse to work with me because I haven't got over 10k followers. We move! I love their clothing and the fact they enable me to continually switch up my style without breaking the bank and this is an absolute must.
I highly recommend ribbed clothing as they cling to the body but are usually never uncomfortable.
This orange dress is sexy and classy and deserved to be shot in a studio setting. I love the tie-up front detail and the sexiness of this fit. I have always said and I will say it gain. Orange looks fabulous on tanned on black skin, everything was popping.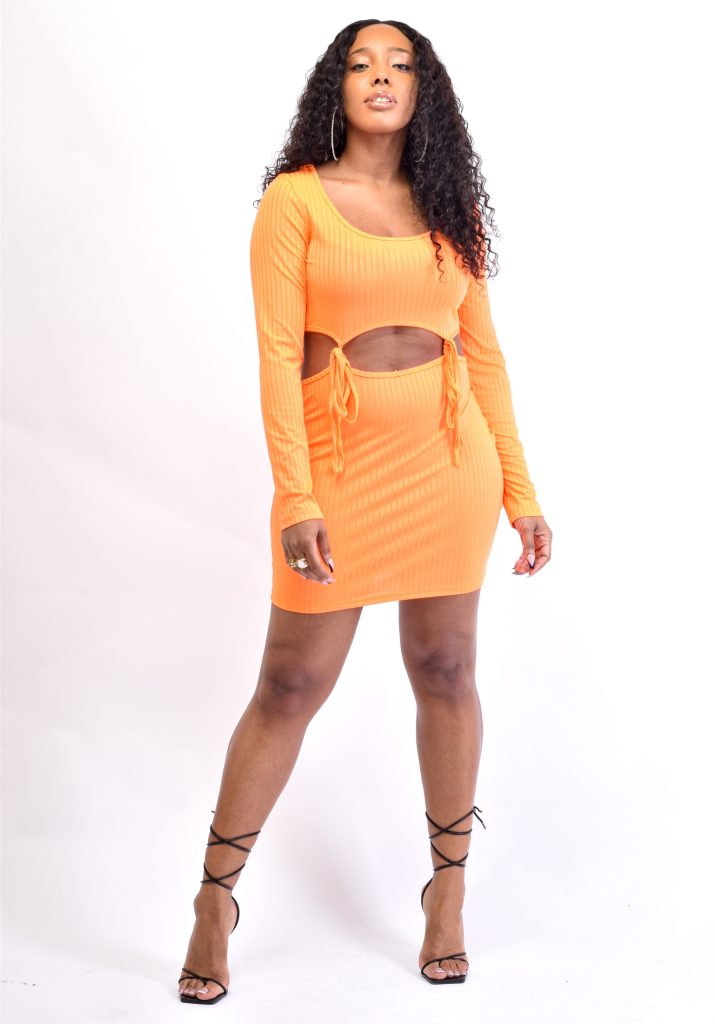 I had planned to have my hair dead straight but last minute opted for the curly look and to be honest; I think it helped complete the look.
What do you think?
What's even better is this dress has also been reduced in price and is only £7.49! yes you read that right.
Full outfit details
Dress & Heels @Shein
Jewellery @Ali Express