*Please note this post is part of a paid collaborative campaign with Boots
I enjoy buying gifts for those I love, and it makes things easier when I can venture online to look for inspiration to help me choose the perfect present for my loved one. I am endlessly perusing shopping sites to find what I am looking for, and creating gift idea posts on Pinterest to ensure I am one step ahead.So you can only imagine how excited I was to be contacted by the leading Health and Beauty retailer Boots to collaborate on their "Love For All Dads" campaign, a fantastic initiative focused on both highlighting some of their extensive range of gifts for him, whilst highlighting all the different types of dads and father figures, taking time to show just how much they're appreciated. As part of the campaign, I have selected some items from Boots range that I will share with you on here as well as on my socials too. My guide will help you to find some suitable gifts for dad, to suit all budgets and tastes; so you're guaranteed to get something that is just right!
Let me know which gifts you liked the most and which you would consider adding to your basket; if you're anything like me, you'll be wanting everything
*Please note, any items I have been gifted will be showcased in photographed images by me below.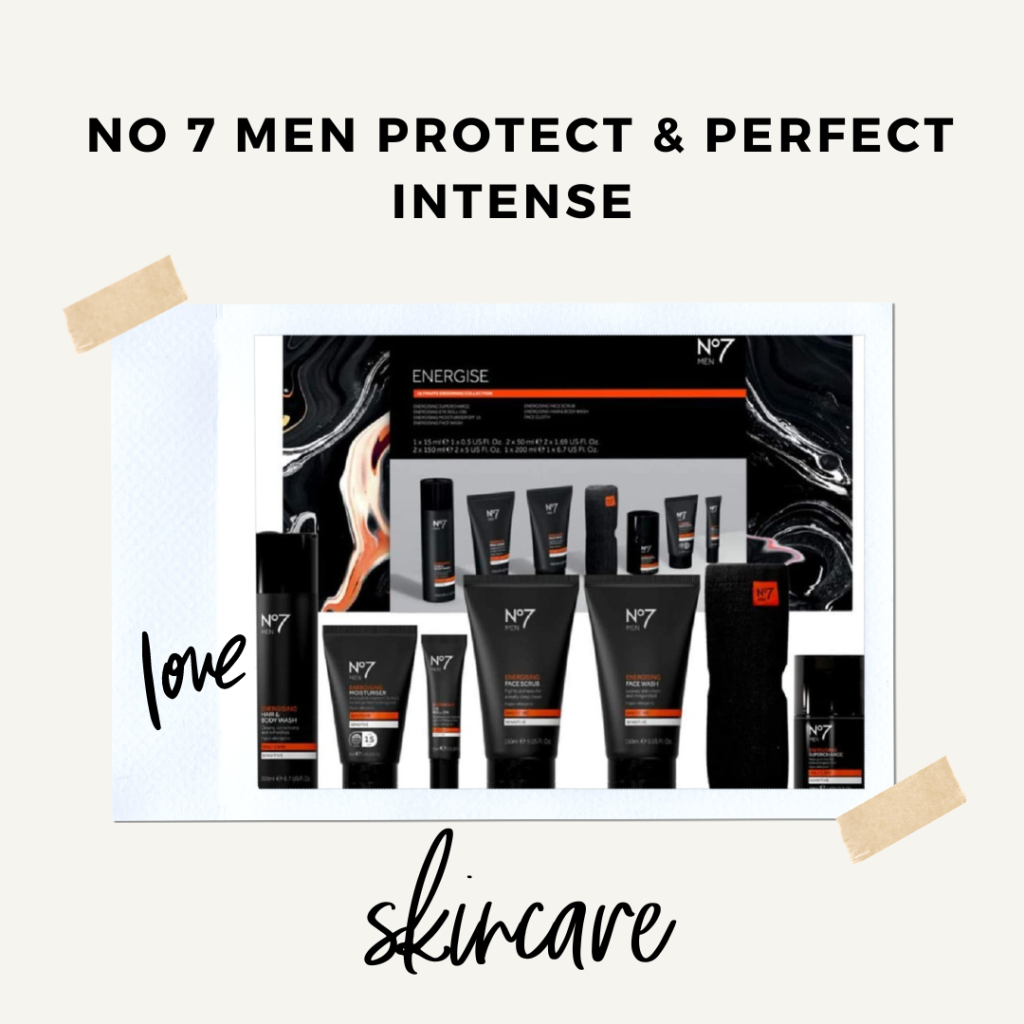 I think it's so important for men to take care of their skin and to practice self-care as much as women do. No7 is a brand that offers quality skincare at an affordable price, and if you feel like your dad needs to up his skincare regime, the No7 Mens Skincare Bundle is a great place to start. The Protect and Perfect Intense ADVANCED range helps to reduce wrinkles and fine lines and helps keep the skin looking youthful and fresh. The positive reviews on this bundle are exceptional and for what you pay, this is not only worth the price; as when each of the items are sold separately they cost £108.70 but offers a great deal inside to suit your dad's skincare needs and can work in conjunction with his current skincare regimen.
The bundle contains:
● No7 Men Energising Face Wash
● No7 Men Energising Face Scrub
● No7 Men Protect & Perfect Intense ADVANCED Day Moisturiser
● No7 Men Protect & Perfect Intense ADVANCED Night Moisturiser
● No7 Men Protect & Perfect Intense ADVANCED Serum
● No7 Men Protect & Perfect Intense ADVANCED Eye Cream
I have loved Gucci Guilty for years and have the female version in my current collection along with the luxury cream. I have also appreciated the male version and have gifted this before as it is a very good choice if you want a scent that can be worn both through the day and night. It offers a clean and decadent smell without being too powerful, and gives an air of sophistication and class – making this eau de parfum the perfect choice for your father or that special man in your life. Gucci Guilty Eau de Parfum for Him is a beautiful and masculine combination of amber with a nuance of citrus and fresh lavender. It smells inviting and lingers throughout the day needing minimal top up as he transitions to the night.
The main fragrance notes are:
Top: Lavender
Heart: Orange Flower
Base: Patchouli
A timeless brand that offers affordability and top quality. Lacoste Red EDT has been marketed as a scent for active, tenacious and ambitious men. Founded in 1933 by the Tennis champion René Lacoste. It isn't one of the most long lasting scents and will require a few applications, but this is a great travel companion for your number one dad or hubby if he is continually on the move.

The scent itself is playful and fruity and honestly smells good enough to eat.

Mood Adjectives:
Playful, Energetic, Fresh
Top Notes: Green apple
Heart Notes: Pine tree
Base Notes: Patchouli and Vetiver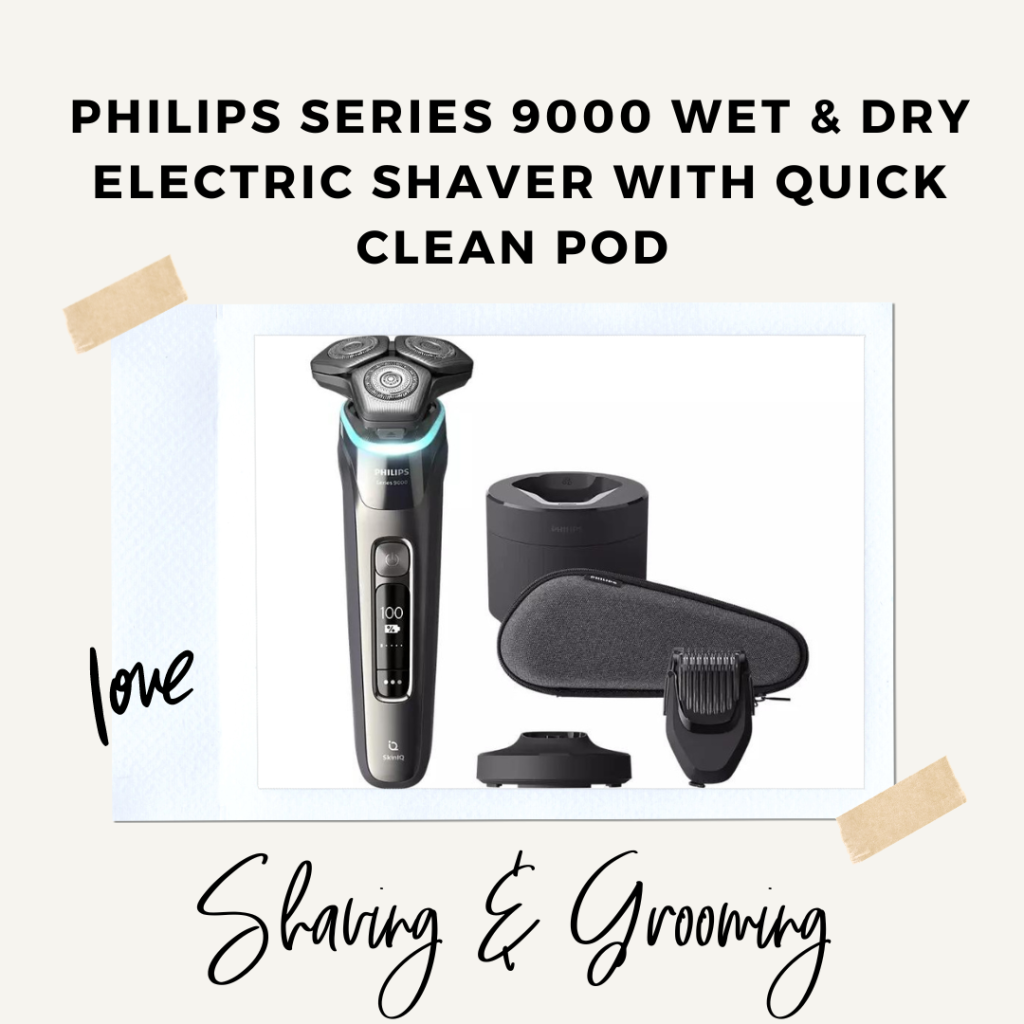 This Philips Series 9000 Wet & Dry Electric Shaver is a little on the pricey side but if your budget is able to extend to this, then this shaver is worth every penny. The reviews are brilliant and the Phillips series 9000 offers a vast amount of fantastic features including offering a close precision cut, intelligent shaving powered by A.I; meaning it adapts to each individual face.
If your dad or the special man in your life is very precious about their shaving, this gadget is an absolute must and had to be included in this guide.
My dad cares about his teeth and keeps on top of his regular appointments. For as long as I remember, he has been singing the praises of electrical toothbrushes and has used several for many years. Though, I think if he saw this one he would be impressed. The Oral B i06 Electric Toothbrush offers deeper precision and leaves your teeth feeling cleaner than ever before. A.I is another key feature of this toothbrush meaning that with less strokes you get a more gentle brushing experience that takes away more food and leaves your teeth feeling extra clean and fresh. One of the standout features is that it has 5 smart modes which allows you to personalise your brushing; giving you the option to choose from sensitive, gum care to Intense cleaning.
This has been added to my own wishlist as its features are exceptional, so why not treat your dad if you can afford to?
I love fast cars and I know my dad does too! If your special person loves moving at speed, they may love one of the fast car driving experiences being sold on Boots.com. Offered in various locations within the UK including: Abingdon; Oxfordshire, Bicester; Lincolnshire, Blyton; Wiltshire, Chippenham; West Sussex, Haywards Heath; Staffordshire plus many more. This experience will provide excitement and adventure and will without a doubt create a lasting memory for you both to share for years after.
Having a top quality shaver can change a man's complete morning regimen and honestly nothing is better. The Gillette Labs Razor with Exfoliating Bar is recognised as the world's first razor with exfoliating technology built into the handle. Meaning that it cleans dirt and debris from the skin, whilst giving a close and accurate shave. This product is a certified winner.
Boots have a fantastic range of gift ideas to "suit all tastes". I know my gift ideas will help you make your choice, to ensure your dad or the father figure in your life has an epic day.
#LoveDadJokes
@BootsUK