If you know me and have kept a keen eye on my fashion content on both SashaShantel.com and via my socials, you will know I really love Fast Fashion. Yes, I appreciate luxury and high fashion but I do enjoy finding or being presented with fast fashion brands that make good quality clothing that have the potential of lasting longer than a few wears.

I was recently contacted by the clothing brand Shewin and was honestly left very impressed by what they had to offer. As part of this collaboration, they offered me four pieces of clothing that I could choose from their website. Seeing that it is still absolutely freezing outside, I opted for three jumper dresses and of course I threw one co-ord in for extra measure 🙂
Shewin is not only a fast fashion store but is also a wholesaler and provides top quality fashion pieces to other clothing boutiques.
Here's my review of each outfit below.
Red Cowl Neck Pocket Cable Knit Sweater Dress

This was my favourite out of the four looks I chose. The quality is exceptional. I have washed and worn this three times and the richness of the colour, the stretch of the material and the lack of bobbling on the dress is testament to how great This dress is. I teamed all of my jumper dresses with knee high boots as the two combined make for a super sexy but understated look.

Get your HERE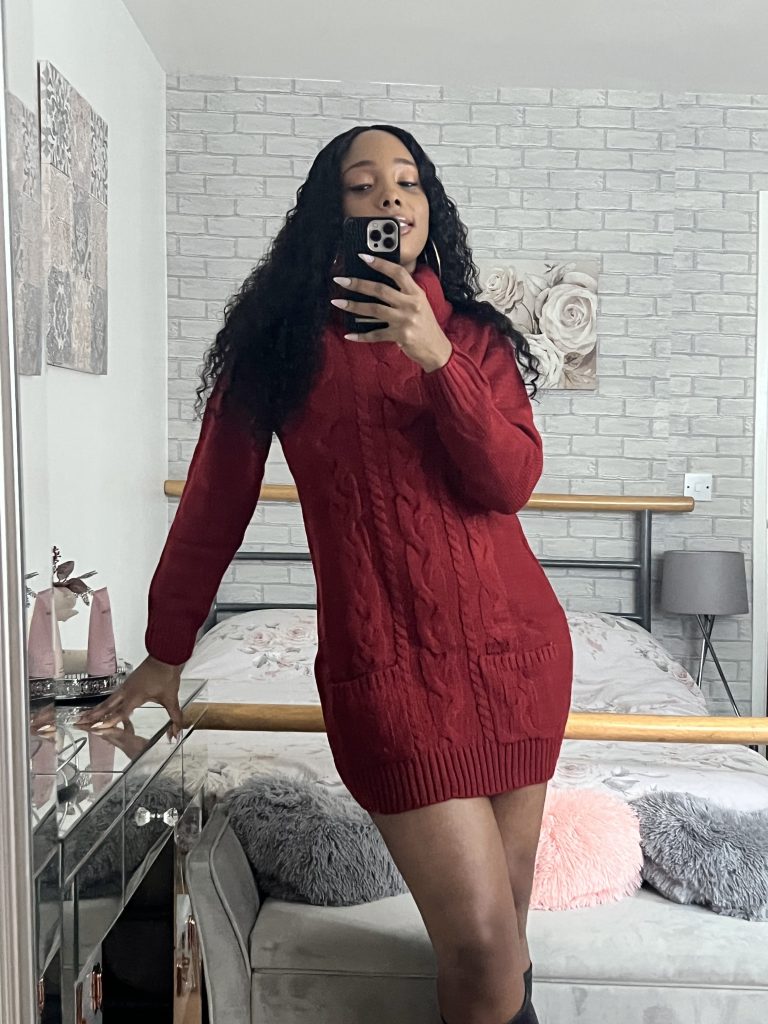 Green Tie Back Backless Bodycon Long Sleeve Sweater Dress

It's the shoulder details that I love most about thus dress as it helps to elevate it and take it from a basic day dress to something you can rock in the evening too. I would l would team this with a big coat and beret for a perfect evening look. I also like the shade of Green as it gives strong Autumnal/Winter vibes. The back also offers a tie up detail; just another added extra that makes this dress another great choice. The quality is great, after a few washes it hasn't lost its shape and the price point for this as well as my other choices have been good also. Another top tier jumper dress.

Get Yours HERE
Black Casual Knotted High Waist Long Sleeve Short Dress

The tie up detailing at the front makes this simple black dress more sexy and complimentary of your figure. The material is top quality and once again after several washes, the dress has kept its shape and is not bobbled in anyway. A perfect LBD addition to any closet.

Get Yours HERE
Brown Ribbed Knit Long Sleeve Crop Top & Pants Two Piece Set
My collaboration picks wouldn't be complete without putting a co-ord in the mix. I am a massive fan of co-ords and I cannot stress how versatile they are and how vital they are to your closet. They help you to complete two outfits instead of one; making them essential pieces as they provide value for money. I absolutely love this co ord. The material is really exceptional and the fabric is very comfortable on the skin.

Get Yours HERE
Overall, my first experience of Shewin clothing was a positive one. They have hundreds of clothing styles to choose from which may be cheap and cheerful but don't compromise on quality. I will definitely be returning to Shewin to sample more of their clothing in the near future.
Many thanks to Shewin for collaborating with me on this post.