This has been a post I have been meaning to write for a very long time. You are speaking to a very avid fan of foundation. I honestly love it and kind of hate the way if can get a bad name. From being told I'm ashamed to show off my imperfections, to being told that my skin can't be that healthy underneath it. (Yes, I've been told this!) I can honestly say that wearing foundation makes me feel good about myself. Especially when I am wearing the correct shades for my face.
In my teens, foundation represented freedom from judgement as I struggled with acne for most of my teenaged life. So many mean boys would make fun of my skin in college and although, at the time I put a brave face on things, it did for a long time taint my confidence. Foundation may have covered my imperfections, but it also allowed me to to feel brave and bold enough to step out, stress up and just get out then during the times when I didn't want to.
Now I am in my thirties, although foundation doesn't quite hold that much weight. I still feel that more fancied up and that more put together when I'm wearing foundation that goes perfectly with my skin. For most women though, we know that finding the right foundation for our skin can be quite challenging. Especially as we all get darker in summer and washed out in winter, so with that; we have to make changes to the foundations we opt for.
I have gone through tens if not hundreds of foundations to find the best ones for me. Of course, I am under no illusion that this will be a long-term thing. However, for now, the three I am speaking on today WORK for me. They do not clog my skin (which is often a massive misconception about foundations), they have all with-standed the time test (you know, how long it takes before it rubs off your face) and they have also passed the price check (because I don't know about you, but I am not prepared to go broke for make-up).
For each of my current favourite foundations keep reading to find out their pros and cons.
I honestly LOVE this foundation! I was a pretty late bloomer when it comes to Fenty and didn't invest in a bottle of it until 2019, however; once I did, there was no way I could look back. This foundation is the perfect mattifying foundation and really helps to tame my combination skin (which is significantly oily on my forehead and nose area.) I tend to use this foundation as a base; using an illuminating foundation on top to give myself that extra glow. However, with the Fenty beauty foundation, I never become TOO oily and when I combine this with my favourite setting powder (that my lovelies is for another post). It really does the trick. For me, the Fenty Beauty foundation is an investment as there are many foundations on the market from other well known make-up brands that provide an array of shades for a much cheaper price. However, having tried nearly every high-street foundation, no other make-up tames my oily skin in the way Fenty does. It's no surprise that Rihanna is taking over the beauty scene as you can tell a great amount of effort has gone into this product.
The consistency of the foundation is amazing and blends into the skin with ease. It specifies on the bottle that the foundation is long-wear and it is definitely that. I tend to wear this foundation in the day time and it rarely needs touching up.
The only con for me is how deceiving the glass bottle is. Who else gets tricked by the weight of the bottle, only to find that it's empty quicker than you expected. I cannot tell you how many times I have shaken the bottle, believing I had more to spare (the trickery!) only to find I was all out.
The shade 420 is also a pretty good match for me. I have conducted a foundation swatch test in the department stores and the next shade up is too dark for me so I tend to mix this with the next foundation mentioned. (I'd love to find out if any of you who read this are able to get a perfect match with just one foundation, and to find out what foundation it is)
For some, at £28/$36 the price may be a tad bit high. But, in all honesty, this foundation does exactly what he says it will and always keeps my skin under control. I absolutely love it and can imagine myself using it for years to come.
Get Yours HERE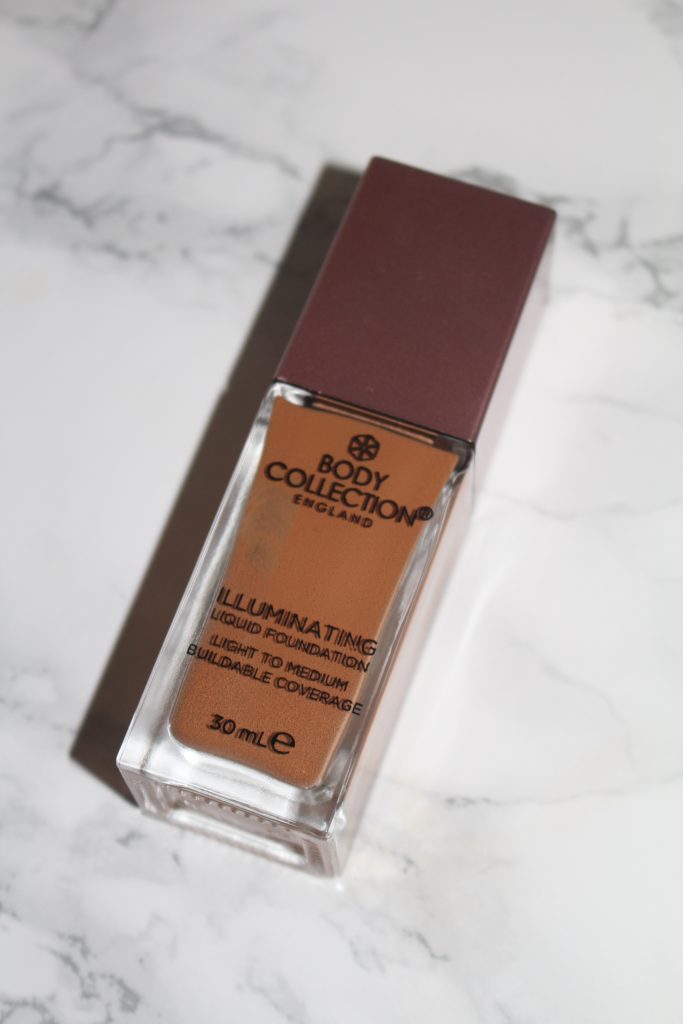 I came across this foundation quite by accident, after a shopping trip to Wilko. I had no idea they stocked make-up products and was really excited when I came across this shade. The Body Collection England Illuminating Liquid Foundation, Light To Medium coverage foundation is quite honestly perfection in a bottle. The foundation itself is rich and liquidy, but not so much that it runs down your face. The consistency is just right and makes it the perfect foundation to mix with Fenty. When I say it gives you a healthy glow, it gives you a HEALTHY glow. It doesn't stick to the skin and instead blends perfectly in with minimal effort.
I particularly love the way that it's a foundation that you build up over a number of applications, but this doesn't cause a 'cake face'.
Let's also get to the major plus points of this make-up. The price is out of this world! £4.00 for a foundation that illuminates the skin and has a fantastic finish.
On top of this, the Body Collection Foundation is Vegan friendly and cruelty free.

The only con I can think of , is that after around 6 hours of wearing it, you may have to top it up and also add powder to set it as your skin can become increasingly oily if you have oily skin. However, aside from this, you cannot go wrong. This foundation is a complete god-send.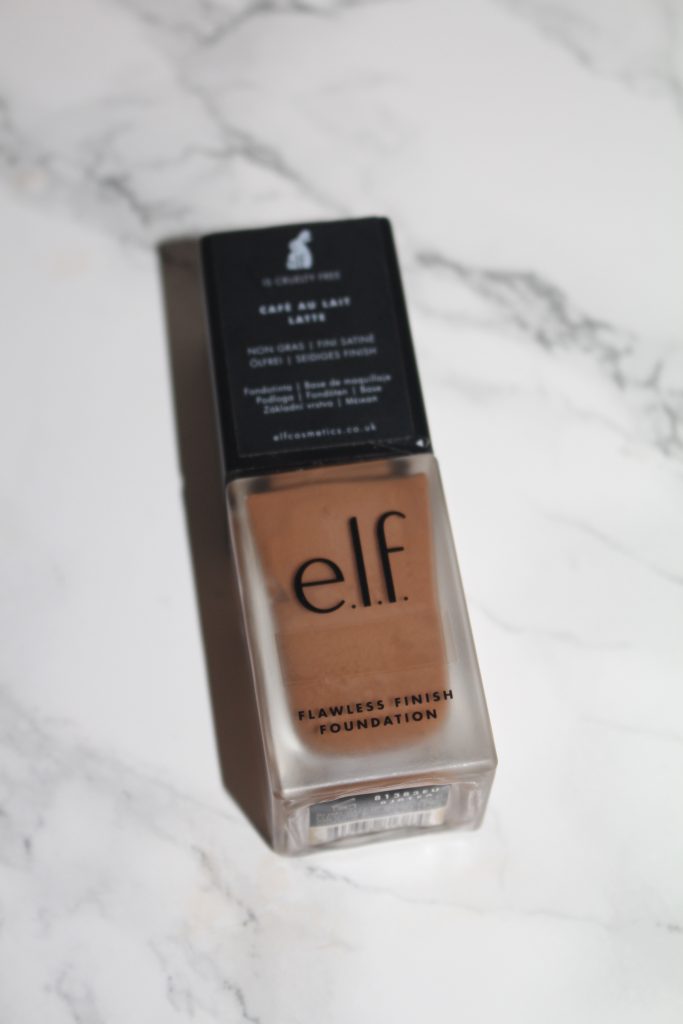 The E.L.F foundation is a late one to the party as I only discovered it last year but it is the best foundation for mixing with the Body Collection for a perfect fit for my skin. The colour alone is a little light, but I love the consistency of the foundation. It reminds me of a moose and has that type of texture. It has a very lightweight formula and is perfect for covering blemishes and scarrings left behind from spots and pimples.

Like the Body Collection foundation it is very affordable at very impressive £7.50 a bottle, but is the smallest out of the three so after daily use, doesn't last that long. However, out for the three, it is the most long lasting and doesn't require setting powder once it is applied and similarly to the Body Collection foundation it is both vegan friendly and cruelty free.
For now, I only use these three foundations and find they suit my needs but I am always open for suggestions of other brands that I should check out so free free to share your favourites in the comments.
Get Yours HERE
Until the next post.
xoxo