I know the title may seem a little extreme but honestly, this product left me astonished. I will say this honestly guys that I NEVER endorse any product without using it myself and I share honest opinions only. I never set out to mislead or oversell any product, just because it has been gifted to me. More than anything, apart from coming here to be entertained (I hope). My true intention is for you to believe my reviews and know that I am only recommending products or brand that I have firsthand seen how great they are. The OWOW Kit is by no means an exception to this rule and is without the shadow of a doubt a keratin straightening system that produces PHENOMENAL results for women's hair no matter their race. I have seen numerous reviews from black women asking whether the OWOW system works on BLACK women's hair and the truth is. It definitely does!
I have relaxed my hair since I was 11 due to catching cradle cap when I was in my adolescence, and it destroyed the overall quality of my hair, leaving it feeling coarse. As a result, I  began to heavily depend on hair straighteners to make my hair look better and feel more manageable.
However, with the increased use of heated products on my hair, it  was literally fried and by 2016, after enduring a battle with my health the year before which saw me being struck down with low blood pressure, anemia and Iron deficiency the side of my temple began to fall out and I was left with a bald patch.
To say my confidence was effected is an understatement. So I turned to wigs.
What was supposed to be something of a temporary nature, became the one thing I grew dependent on. I couldn't go; or should I say wouldn't go out without a wig on and overtime this left my scalp feeling  increasingly dry. Having looked for an alternative on the market to  make my hair, particularly the roots more manageable I decided to go online and purchase a keratin system. However, a highly recommended one I found online turned out to be complete nightmare, its odour was overpowering and on application left my hair feeling sticky and full of product. What's worse, my hair didn't look like it had been treated with anything, so I retreated back to wigs.
Then last month, I finally decided that enough was enough, I no longer wanted to be forced to hide my hair so I set out to research another keratin system. Then just like that, I was contacted online by OWOW who offered to gift me with their keratin treatment. At first, I will openly admit; I was very apprehensive as from what I could see, the product only appeared to work wonders on Caucasian or non-black women's hair, but with nothing to lose, I ordered my pack.
First Impressions
I'm a complete sucker for good packaging and I feel that when there is obvious effort placed on the production of a product, the chances are the product itself will also me good. I instantly fell in love with the orange and black packaging. I was impressed with the overall size of the bottles included. Each OWOW single application pack includes: 3 x 100ml orange and black bottles containing a shampoo and conditioner which you are directed to use for your first and subsequent washes after putting on the treatment. Each bottle has written clear instructions on the side, explaining how to apply the product to the hair as well as clear instructions of application and setting times.
The pack also came with a instruction manual which included step by step instructions with diagrams as well as tips on what how to care the hair after the treatment. For other Brazilian keratin treatments I used previously, I always felt put off by the odour. However, in this case the odour was pleasant and left my hair smelling good enough to eat.
Application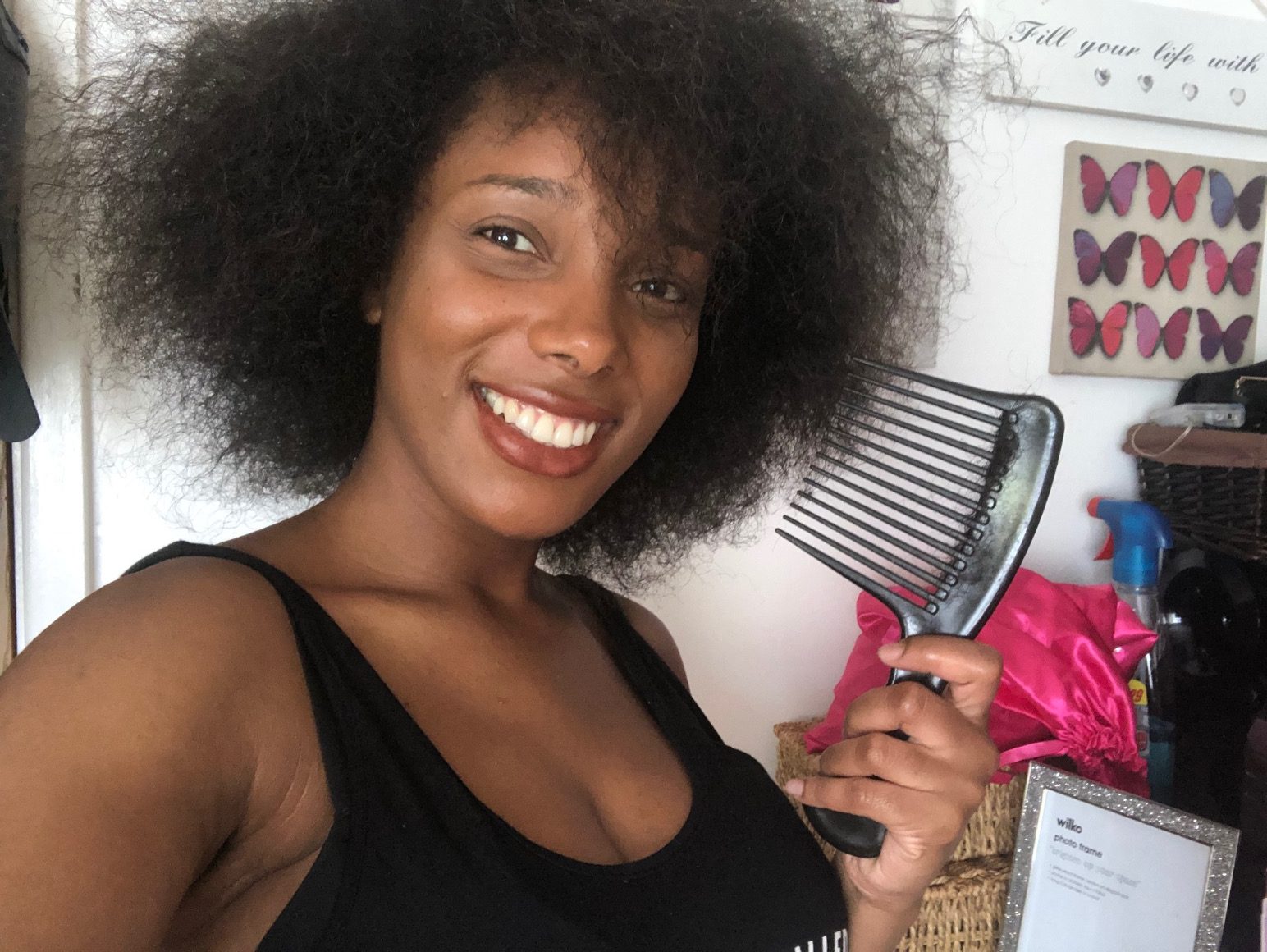 The initial application of OWOW was very simple. My mother helped me with applying the product to my hair and sprayed the solution onto approx 2cm strands of hair, making sure to work the solution into my hair from root to tip. (It is important that your hair is prepped beforehand and is clean and thoroughly dry before applying the treatment).
The OWOW system was fantastic as it didn't burn, itch or leave my scalp feeling irritable at anytime. In fact, I left it even slightly longer than the recommended time period and after following the washing out directions, my scalp felt perfectly fine.
I was then directed to blow-dry and the follow up with straighteners to help the treatment penetrate the hair.
The entire process took around two hours but the end result was absolutely amazing. My hair was left feeling soft, manageable and tamed my afro!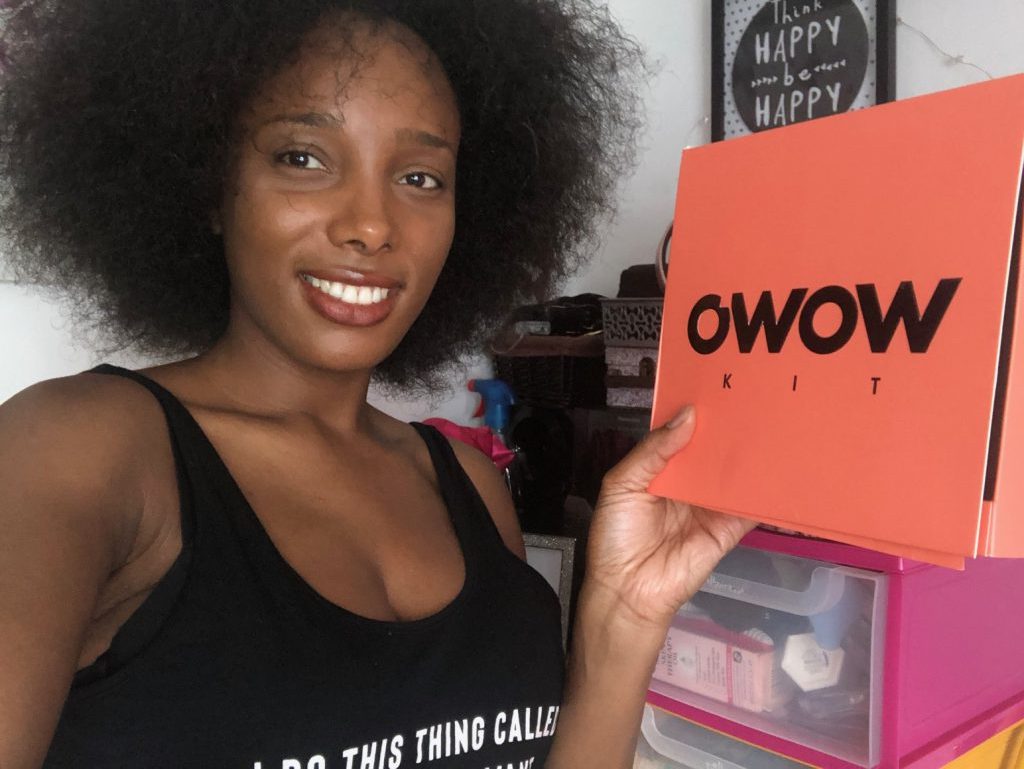 I still cannot believe that the OWOW system works effectively on black hair and creates results that are jaw dropping. I have now found the keratin system for me and will be returning to purchase the product again as I am simply blown away by how much it transformed my hair.
Pricing 
In terms of pricing, you honestly can't go wrong with what you get for your money. On the OWOW website, one pack costs only £69.90 which is a great investment for what you get.  Further to this other key benefits of using OWOW include:
Results lasting up to 3 months
The fact the bottles are travel size
Are 100% vegan
100% cruelty free
Free from Formaldehyde
Sulphate and paraben free
Free shipping
Final thoughts
Overall, I am thrilled with the results of the OWOW treatment on my hair. This product as restored my faith in my own hair and has allowed me to stop depending on wigs. I now feel able to work on restoring my hair back to health and I have this product to thank. Whether you are white, chinese, black, white or any other ethnic mix, OWOW can be used on your hair and will help to make your hair more manageable and easier to style. This product is an absolute for anyone who wants to embark on their healthy hair journey.
Get yours HERE