If you have followed me for a while you will know that I am always experimenting with my hair. For me, hair is an accessory. When I wear straight hair; it's not because I want to be more European, it's because I want to wear straight hair in that moment. The same applies if I want to wear curly hair or wavy hair, red hair or pink. Hair and switching up my look is all reflective of my mood and the older I get, the more I want to try new things and change how I look more regularly. I had been wearing straight wigs for a long time so was thrilled to be contacted by LuvMe hair to work on a hair collaboration with them.
Wigs are so much fun and allow you to change how you look in a short space of time. As I am regularly shooting blog and social media content, I really wanted to invest in a curly/wavy wig so this came at the right time.

I was given the option to pick from a selection of high quality human hair wigs that was both affordable and accessible. The headband wig by Luvme hair offers both of these options. I had heard a great deal about headband wigs but hadn't invested in any before. The ability to attach a wig to your head and not having to take time to lay your edges or gel your baby hairs is absolutely perfect for me. (of course for you wig professionals, the headband wig does offer this alternative 🙂 ) I really liked how you can step up your hair game with minimal effort.
Although, I wasn't going anywhere during the festive season and spent it at home with my mum and cat. Looking glam during this period has always been a priority for me and this hair helped me to glam it up during my Christmas holidays.
What do you get in your LuvMe Hair Box?
Let's first start by admiring the box and the overall packaging. For me, luxury means everything from the boxing to the labelling being to a high level and offering top quality and Luvme hair do not fail to deliver. The hair came in a beautiful deep purple coloured box with gold writing on the front and was wrapped with a ribbon which was a nice extra touch. Inside the box I was presented with a number of goodies for both my hair and beauty needs. In the box included the following:
A Detailed instruction manual sharing tips on how to care for the hair, how to use the wig, as well as providing FAQ about the products contained within the box and its usage.
The hair I chose which was the 20inch Wet and wavy affordable wig which is so versatile and can be straightened and then made to go curly again, all without losing its overall quality.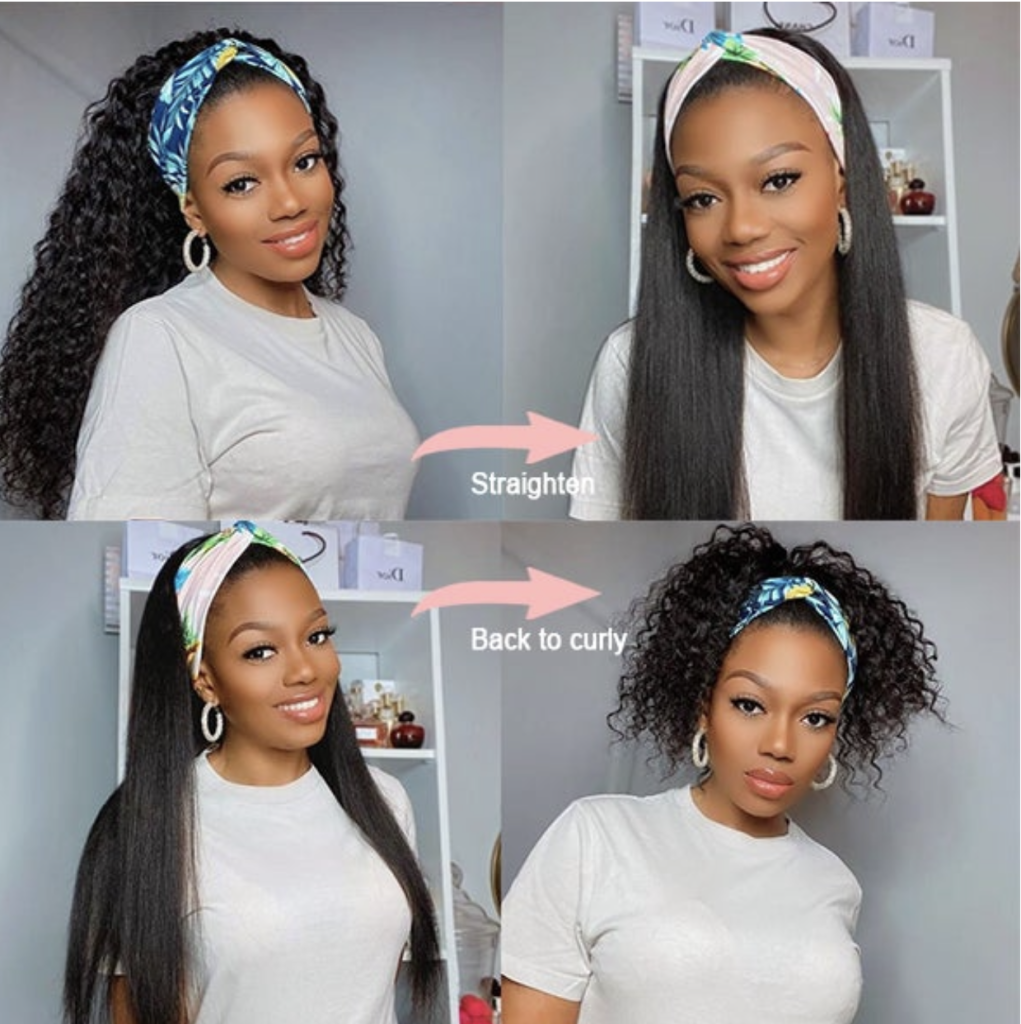 3. A choice of 5 headbands all to suit diverse preferences.
4. Press on nails, eye lashes
5. Silver fashion earrings
6. A milk hair scrunchie
7. Mobile phone accessory
What is the overall quality of the hair like?
The hair itself is exactly what it is described as…. Luxury, soft to the touch, minimal shedding and knotting and holds the curl pattern very well. 20 inches was the perfect length as it dropped just below my shoulder. I prefer wigs that have additional combs inside as the wig when applied feels that more secure on my head. This wig had a sufficient amount of combs inside with 5 being in the wig in total, two around the front, two on the side and one on the back. I combine this with my trusted Got2Be glue and the hair feels locked in and ready to go! The scent of the wig was also good too.
I have ordered wigs from abroad on several occasions and they sometimes have a weird odour, particularly in human hair. However, Luvme hair sent me hair that smelt clean and further demonstrated the overall quality of the hair they sell.
How did it look?
The hair was an absolute dream and completely transformed my look. I always get quite paranoid about curly hair as it often looks like the curls are dominating my head. However, the Luvme wig complimented my head perfectly and looked amazing. I cannot wait to style it in more diverse ways and have already played with half up, half down looks and a top bun.
+++++GET YOUR HEADBAND WIG HERE+++++
So wait are you still not convinced yet?
There are so many benefits to wearing a head band wig from Luxeme hair, here's just a few 🙂
Their wigs are beginner & lazy girl friendly (hence why it works for me just perfectly)
No Glue, No Lace, But Super Realistic Look- The hair fit my head perfectly and looked completely natural.
Zero Skills Install Within 10 Seconds- perfect for women like myself who change their looks often and want to experiment.
Breathable & Comfortable Headband- not restrictive in anyway and doesn't put any unnecessary pressure on the head.
High Ponytail/Bun Available- can be style in a number of versatile ways.
Affordable Price, Gorgeous Look- this top quality and luxurious wig is currently on SALE! get yours HERE
I wasn't quite convinced by headband wigs when I was first told about them, but now I have tried this, I will keep returning to them and there are in fact a few additional styles that have caught my eye.
Luvme Hair's collection of affordable and luxurious headband wigs are a fantastic investment for women who require versatility, ease, top quality and affordability. This can all be found here.
To know more about Luvme Hair follow them on their socials
Website: https://shop.luvmehair.com/collections/headband-wig
Instagram: https://www.instagram.com/luvmehair
Facebook: https://www.facebook.com/luvmehair
YouTube: https://www.youtube.com/user/msluvmehair