It's been a few days since I've been on here and let's just say life and all its complexities have stepped in again and have caused me to clamp up and shut off. I do this often and for those of you who try to reach out but I simply ghost or become non-respondent. I hope you understand and to be honest, because life is challenging for everyone; at one time or another I KNOW you get it.
So what's been the major issues? 1. Work. I love aspects of my career, I help people daily and I've always been very proud of the impact I make. However, the money I receive just doesn't cut it. It doesn't help me to live a quality of life I deserve and it doesn't help me to grow or evolve my ventures. After much thought, I now know that I have to really commit to leaving and taking on new challenges so over the next few months every effort will be made to exit this time around.
In the midst of all this, I'm working on 2 new ventures; ventures that I'm extremely excited about and more importantly am really PASSIONATE about. I feel like I've finally found my calling and although I'm scared. Scared of failure, scared of not achieving what I want from them. I'm also proud that I'm bold enough and brave enough not not settle and to always carry my dream in my heart. It's so important that if there's something you want to do you do it!Regrets are a hard pill to swallow.
Love has been getting me down too! I have wanted so badly to fix a previous relationship but for some reason, I feel the friends they have, have been in their ears, influencing how they move and prolonging the hope of really moving forward and trying again. Although, I know they love me and want the best for me. They no longer want me. If they did, they wouldn't have me here waiting and prolonging and pushing away everyone and anyone because their not them. They would choose me and make it happen no matter what! No matter how much they protest; I feel it's finally time to move forward, allow other people in and see what happens from there. It's time.
Letting go is never easy to do but if you have to force it, then it needs to be stopped in its tracks once and for all. It's also important to sever ties with thoughts, people and circumstances that stunt your growth and stop you from really being happy. I'm committed to doing that from this day forward. I'll keep you posted.
About this outfit….
So guys, I'm behind in my fashion posts. I took a week off Instagram, turned off my phone and deleted Whatsapp for the billionth time because I really hate that app and how intrusive it is. I also got caught up on binge reading some great blogs from a few bloggers who I will be dedicating a blog post to soon. (I'm making some changes on this blog and also adding a few new features which I'm excited about!). I read one blog which posed the very interesting question as to whether blogging and blogs in general are a dying trend as more and more fashion apps are making it easier for people to shop your looks almost instantaneously. However, blogging is my outlet an over the past few months its helped to centre me and keep negative moods at bay. I've grown the visits and I've really enjoyed sharing the details on each look I shoot so for now, blogging is staying in my life; so you're all stuck with me!
If I do say so myself, this look is straight fire! When I initially put this outfit together and my mum saw it, she wasn't impressed! I informed her she was crazy, after seeing the pictures back she agreed.
The lace bodice is such a sexy little number and is the perfect top for a date-night or party. I picked it up from Ebay last year and also picked up red one. I teamed it with this really cute faux fur skirt from Primark which again is an oldie and only cost me £3.00. I thought the khaki green overcoat would be a great addition to round up the look and is again from Primark and cost £7. The heels popped up in a recent post and is from a boutique local to me in Peckham and is the most expensive part of this entire outfit.
What do you think of this look? Do you think it works for a date night or party setting? I've linked images to similar items you can currently grab online to recreate the look below.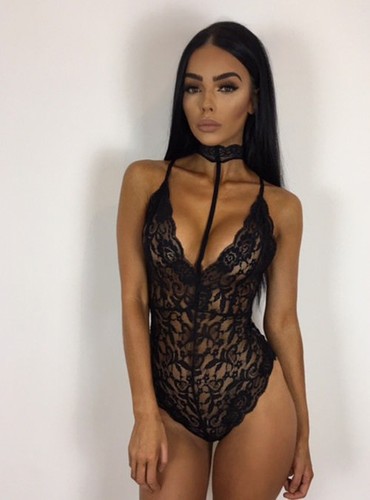 Lace Bodysuit
Ebay
Faux Fur Skirt
Forever 21
Khaki Green Waterfall Duster Jacket
Ebay
Gladiator Styled Heels
Go Jane